"There are not many artists that touched me the way Minnie Riperton did. Her pureness and beauty permeated this planet with a song that only 'she' could master, and on the day that she died...
I cried."
Edie
Baby Minnie
Minnie Julia Riperton (November 8, 1947 - July 12, 1979) was a soul singer from Chicago, Illinois, most noted for her abilities in the **whistle register (see below) and her 1975 hit single "Lovin' You". Having possessed a rare five octave vocal range, she displayed the ability to imitate instrumentation and even birds.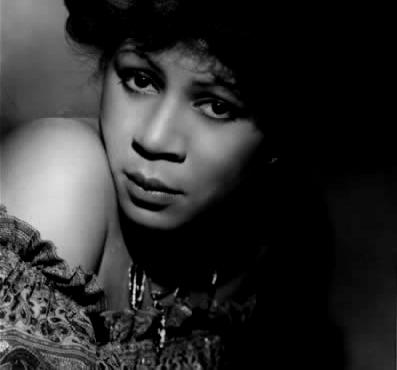 As a child, Riperton studied music, drama, and dance, and seriously considered a career in opera. However, her affiliation with the famous Chess Records record label soon allowed her to sing backup for Etta James, Fontella Bass, and Stevie Wonder. Riperton sang lead vocals for several small, unsuccessful bands before teaming up with her husband, composer Richard Rudolph, to start her solo career. Stevie Wonder agreed to produce her album, Perfect Angel, featuring "Lovin' You", a ballad to her two-year old daughter Maya.
Minnie and Maya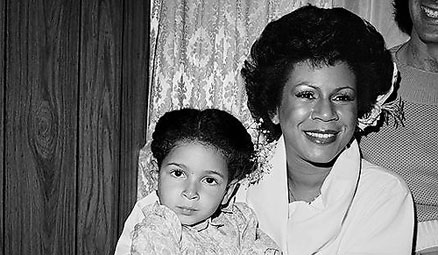 Riperton was diagnosed with breast cancer and had a mastectomy in 1976. She became an active spokeswoman for the American Cancer Society and was awarded the Society Courage Award from President Jimmy Carter. She died in 1979 at the age of 31 and was interred in the Westwood Village Memorial Park Cemetery in Los Angeles, California.
In addition to her musical legacy, Minnie Riperton is survived by her son, Marc Rudolph and daughter, Maya Rudolph, a current cast member of Saturday Night Live.
Early childhood Minnie Julia Riperton was born on November 8, 1947 to Daniel and Thelma Riperton. The youngest of eight children in a very musical family, Riperton embraced the arts very early in life. Although she started in ballet and modern dance, Riperton's parents recognized her coloratura abilities early in life, and she soon shifted to music and voice.
Minnie Riperton received operatic vocal training at the Lincoln Center by Miss Marion Jeffery. There she would practice breath control, holding vowels for extended times and phrase enunication, with particular care for diction. Jeffery also would train all of her range, which is rather unusual in operatic training as many classical purists deem the seventh octave unmusical.
The Gems
While studying, Riperton sang operettas or a show tune, in preparation for a life in opera. Jeffery was so convinced in her pupil's coloratura abilities, she strongly pushed her to study the classics further at Chicago's Junior Lyric Opera. However, this was the '60s and Minnie was becoming very interested in soul, rhythm and blues, and rock. After graduating from high school, she enrolled at Loop College, but dropped out after a mere three weeks.

Early career Riperton's first professional appearance occurred when she was 15 as part of The Gems. Raynard Miner, a blind pianist, heard Riperton during her membership in Hyde Park's A Capella Choir. The Gems had relatively limited commercial success with Chess Records, but the group proved to be a good outlet to expose Riperton's talents to the music industry at large. Eventually the group became a session trio (to back other albums) called 'Studio Three'.

In 1964 the Gems released a local-hit "I Can't Help Myself" and their last single, "He Makes Me Feel So Good" was released in 1965. After that the group released records under numerous names - most notably 1966's "Baby I Want You" by the Girls Three and 1967's "My Baby's Real" by the Starlets. The former has achieved cult-status with Northern Soul fans and remains a favorite.

The latter was a Motown-styled song reminiscent of Tammi Terrell. In 1968 "Watered Down" was released as a follow-up, under the name the Starlets. Ultimately it was the last release of Riperton's girl-group. "My Baby's Real" by the Starlets and "He Makes Me Feel So Good" by the Gems can be purchased on CD on Ace's Where the Girls Are V.3.

Andrea Davis While a part of 'Studio Three', Riperton met her mentor, producer Billy Davis. He would write her first local hit "Lonely Girl" and "You Gave Me Soul". In honor of Davis, she used the "showbiz name", Andrea Davis, for the release of those two singles. Afterwards, she would use her real name.

Rotary Connection Some months after her Andrea Davis singles hit the radio, Riperton would join the Rotary Connection, a funky rock-soul group creation of Marshall Chess, the son of Chess Records founder Leonard Chess. The band consisted of Riperton, Chess, Judy Hauff, Sidney Barnes and Charles Stepney.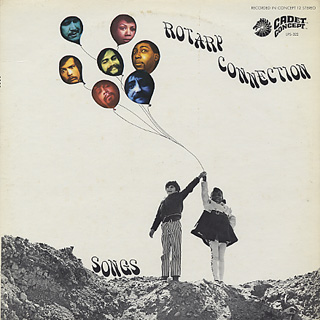 Rotary Connection


While she was in Rotary Connection, she met Richard Rudolph, her future husband and songwriting partner. The group released their debut in 1967, eventually releasing four more albums, 1968's Aladdin, the Christmas album Peace, Songs, and finally 1970's Dinner Music.


"Lovin' You" In 1973, a college rep for Epic Records found Riperton, then a semi-retired homemaker and mother of two in Gainesville, Florida. After he heard a demo of the song "Seeing You This Way", which showcased her coloratura, the rep took the tape to Don Ellis, VP of A&R for Epic. Minnie signed with Epic Records and the family moved to Los Angeles, California.
Charles Stepney

After meeting with Stevie Wonder and recording the background for his song "It Ain't No Use" with Deniece Williams and Lani Groves, Wonder produced Minnie's second LP entitled Perfect Angel. Including the rock-soul anthem "Reasons", the second single "Take A Little Trip", and the third single "Seeing You This Way", sales of the album started out slow.

Epic was ready to move on to the next record, but Rudolph convinced them to release another single. With the fourth single "Lovin' You", the album really caught on. In 1974, the song went to the top of the charts in the US, number two in the UK in 1975, and number three on the R&B charts in the US.

The album Perfect Angel went platinum, and Minnie was finally revered as the "lady with the high voice". The album also featured the song "Every Time He Comes Around", featuring Deniece Williams as the operatic soprano in the background. People who don't know the music of Riperton well may believe her to be a one-hit wonder, despite having a fairly successful R&B career.

Later career After Perfect Angel, Minnie Riperton and Richard Rudolph started on Riperton's second album Adventures in Paradise. Keyboardist Joe Sample played throughout the album and helped co-write "Adventures in Paradise". The album was a modest success. Despite the R&B hit "Inside My Love" (a number five US R&B hit, later covered by Trina Broussard, and Chanté Moore), the album didn't match the success of Perfect Angel. Riperton would sink back into mainstream obscurity, but enjoyed a good career in R&B.
Richard and Minnie
In 1976, Riperton's attorney Mike Rosenfeld and her husband orchestrated a move to Capitol Records. After inking a new deal with Capitol, Minnie released her third album titled, "Stay In love". This album featured another collaboration with Stevie Wonder in the funky, disco tune,
'Stick Together'.

1979 saw the release of her fourth (and final during her lifetime)album, eponymously called Minnie. The last song Minnie recorded was Give Me Time, a melancholy ballad once again featuring Stevie Wonder. Her last televised performance was on an episode of The Merv Griffin Show (aired July 6, 1979), where she performed Memory Lane, featuring her enunciating the phrase "Oh Why", high in the seventh octave.

Illness and death In 1976 Riperton revealed to Flip Wilson, who was guest-hosting for Johnny Carson, that she had breast cancer.

Minnie continued touring in 1977 and 1978, but eventually the cancer took its toll. Despite a mastectomy, the disease had already spread to her lymph nodes and in 1979 was discovered to be terminal. At the end, Minnie entered Cedars-Sinai Hospital, and at approximately 10:00 a.m. on July 12, 1979, she died, with her husband by her side, aged 31.

Post-demise After Riperton passed, several artists recorded posthumous duets with Minnie, including Peabo Bryson and Michael Jackson. After her last single, Give Me Time, Love Lives Forever was released in 1980. Richard Rudolph had a song that never got recorded. The song, Now That I Have You was given to Teena Marie, who recorded it (and co-produced it with Rudolph) for use on her sophomore LP Lady T. Finally, in 1982, Capitol Records released The Best Of Minnie Riperton, a greatest hits collection.

Vocal ability Aside from her various hits, Riperton is perhaps best remembered today for her ability to sing in the whistle register. She had a rare facility in this register, and was capable of executing trills, runs, and other vocal acrobatics in this register. Riperton possessed a five-octave coloratura soprano vocal talent (the liner notes to her Petals legacy album ascribe to her a five and a half octave range), easily singing well into the seventh octave.

She was also noted for her ability to sound almost mechanical or instrumental in the whistle register. In "You Take My Breath Away," she sings a crescendo scale ending two octaves above the staff. Having an innate ability to imitate many instruments helped lead to her discovery while she was a secretary at Chess Records.
Covers, references, and sampling The plot of an early episode of South Park centers on a male singer's inability to hit the F6 in "Lovin' You". Deniece Williams and Tamar Braxton have stated that Minnie was an inspiration in the development of their vocal talents.
"Lovin' You" was sampled in Stagga Lee's "Roll Wit M.V.P." In 1989 British ambient group The Orb sampled Lovin' You on their breakthrough single, "A Huge Ever Growing Pulsating Brain That Rules from the Centre of the Ultraworld".
In 1991 Shanice Wilson covered "Lovin' You", updating it for a 90's sound. In 1991 & 1993, rap group A Tribe Called Quest sampled Riperton's "Baby This Love I Have" for the song "Check the Rhyme" off of the The Low End Theory. Following that, on their next album, Midnight Marauders, they sampled "Inside My Love" for "Lyrics to Go".
In 1992 Rachelle Ferrell sings (and sustains) an E7 in "It Only Took A Minute", demonstrating a technique of Minnie Riperton, to sing a note so high, it loses any real human color and thus sounds instrumental. In 1997, her song "Inside My Love" was used by Quentin Tarantino in his movie Jackie Brown (film).
In 1999 Mariah Carey mimicked Riperton in her song "Bliss", the third track on her album Rainbow. Carey can be heard singing the phrase 'On and On' in such a manner her voice sounds almost like a steaming tea kettle to illustrate her feelings. In 2000, her song "Inside My Love" was used in a sex scene for the movie Road Trip. In 2001 one of Riperton's earlier songs, "Les Fleur", was covered by 4hero, using Carina Andersson as the lead vocalist.
In 2001 Welsh based DJ Je?an Jacques Smoothie scored a worldwide hit with "2 People", which directly sampled Riperton's "Inside My Love". By the way the song was done, it almost appeared as if Riperton was actually a guest vocalist rather than a sampled voice.
In 2001 On an episode of Grilfriends, Joan (Tracee Ellis Ross) sings Lovin' You into a hairbrush (imitating a singer), and sings the F6 so off-key and shrill, Yvonne (Cee Cee Michaela Harshaw) kicked in the door believing Joan to be in distress. In 2002 Chanté Moore played a wedding singer on Girlfriends and sang "Lovin' You", executing the high note in her own style.
In 2003 Kenny Lattimore and wife Chanté Moore covered "Here We Go". In 2003 Japanese R&B singer Ken Hirai covered Riperton's song "Lovin' You" in his album "Ken's Bar"
In 2004 Adam Lopez instrumentalized in the background of his song "Stay With Me", imitating a piccolo in a manner similar to Minnie Riperton. In 2005 Tireh duplicated Riperton's bridge acrobatics that she displayed on her climax for "Memory Lane" by sustaining notes in the whistle register to mimic the sound of a violin, in his song titled "Who Would Have Known".
"Inside My Love" samples the middle-8 Rhodes riff. British-American singer-songwriter Julia Fordham wrote and recorded the song "Roadside Angel" as a tribute to Minnie. It appears on her 2001 album Concrete Love, which also includes Julia's cover of "Lovin' You" as an unlisted bonus track. A live version also appears on Julia's album That's Live.
In 2006 Japanese singer Minako Honda covered Riperton's song "Lovin' You" in her album "Kokoro wo komete...(?????...)". As compared with the original melody, it is lower arranged by the seminote.
In 2006 Hip Hop artist Busta Rhymes sampled "Inside My Love" for the song "You Can't Hold The Torch" from "The Big Bang" album
Trivia Minnie Riperton was largely responsible for the label of "coloratura soprano" in non-classical music. Minnie trained early on to sing classical music and initially wanted to pursue that genre. However, the sixties ushered in rock and roll, and Minnie left opera to pursue a career in popular music. She brought her label with her, and when she became famous, she was revered as the "lady with the high voice" or the coloratura soprano. To this day in popular music, a coloratura in pop music denotes a singer of acrobatic range.
**The Whistle Register (also called the flageolet register and in Speech Level Singing the super-head register) is the highest register of the human voice.
Physiology and definition
The physiology of the whistle register is the most poorly understood of the vocal registers. It is known that when producing pitches in this register vibration occurs only in some anterior portion of the vocal folds. This shorter vibrating length naturally allows for easier production of high pitches. The physiological process that causes this is not currently known.
The whistle register is most commonly used to produce pitches around and above soprano C. By the physiological definition just detailed, it is a configuration of the vocal folds and not a range of pitches. There is, however, no universally agreed scheme for classifying vocal registers, so it is common to see other definitions. Uses of the whistle register
In European classical music, the whistle register is only rarely called for. When it is, it is exclusively used by coloratura sopranos to produce pitches above C6. Probably the best-known example of the whistle register in European classical music is in the "Queen of the Night" aria (properly titled "Der Hölle Rache kocht in meinem Herzen") from the Mozart opera Die Zauberflöte; it calls for pitches up to F6.
In Western popular music, the whistle register is used with more variety and to produce much higher pitches than are called for in classical music. While it is most often used by females, such as Mariah Carey, there are a few male singers who use it. Among male singers, the one who holds the Guinness Book of Records record (C#8, ) for highest vocal note by a male, Adam Lopez, makes extensive use of the whistle register. There are also non-musical uses of the whistle register. Famously, a very high pitch, properly produced, can shatter glass. This was demonstrated, for example, by Jaime Vendera on the television show MythBusters (though those pitches were not in the whistle register). It is also common for children of both sexes and for young women to shriek loudly in a way that sounds much like the whistle register, though it is not known whether the physiological mechanism is in fact the same.
:: Minnie Riperton ::
Gone...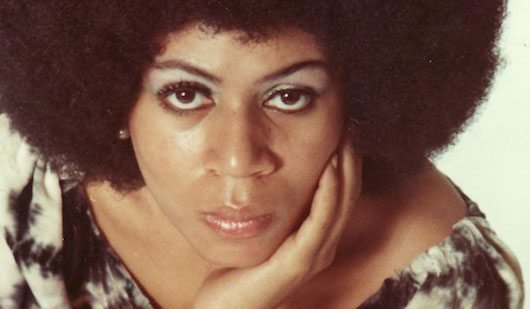 ...But Not Forgotten
© 2017 An Edie Antoinette Production